Wreckage from the Speke, including part of the bow, still lies high on the rocks and more debris lies scattered along the edge of the reef in shallow waters near Kitty Miller Bay, Phillip Island.
To reach the wreckage we walk across the Kitty Miller Bay beach and then navigate our way over rough stones and small boulders before clambering down quite a steep and muddy cliff face to the wreckage.
The SS Speke was a three masted steel ship of 2,876 tons and 93 metres, having been built in Wales, 1891, the Speke drifted broadside on to a reef to the east of Kitty Miller Bay on 22 February 1906 while en route from Peru, via Sydney, to Geelong, in ballast, to pick up a cargo of wheat.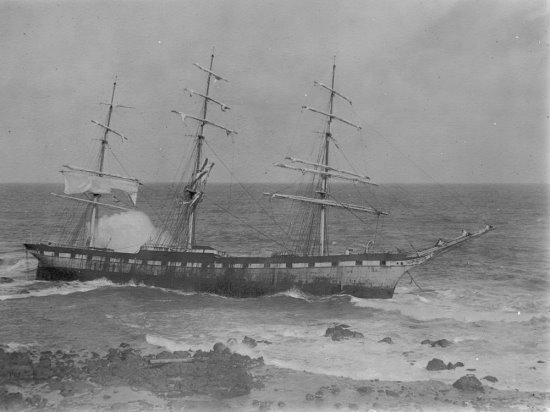 The accident was attributed to faulty navigation by the captain who had confused Cape Schank Lighthouse for the Split Point Lighthouse at Aireys Inlet.
Little of the Speke was salvaged and heavy seas battered the wreck for several days until it broke in two and rapidly disintegrated.
After weathering the fierce winds and an incoming tide we retrace our steps and continue south around the other side of the Kitty Miller Bay and clamber over the rocky outcrop to arrive at Summerland Beach, the setting for the famed Penguin Parade, alas we were a little too early to see any Penguins
We return to the cars and headed for Swan Lake which as it happens is located in the sand dunes behind Summerland Beach
The Swan Lake and bird hide walk is home to a colony of short-tailed shearwaters and a host of other water bird species. We debated at some length what the collective noun was for a group of Black Swans might be and came up with a Herd, a Gaggle, a Whiteness, or aWedge of swans before settling on our preference of a "Bevy' of swans.
Our thanks to Val for yet another adventure, we had a great day and managed to avoid the rain ...but not the wind!
Our select group consisted of Val McDonald, Michelle Prentice, Jean (Jay Jay) Jackson and Sue and Ian Mayer